ZOE LUYENDIJK STUDIO
By ZOE LUYENDIJK STUDIO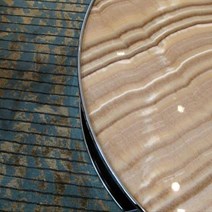 Zoe Luyendijk Studio offers hand knotted carpets, hand-made by highly skilled artisans in the Kathmandu Valley. Design of Zoe's carpets begins with sketching, painting, drawing, frottage, collage, photography and endless doodling. The finished artwork is then translated into full size graphs, which the weavers follow. The sheer size of the task accomplished by the weavers is only hinted at when looking at a carpet knot by knot. The hand of the artisan is revealed at the end of the long process.

The artisans weave the carpets using the traditional Tibetan knot, also known as the Persian, asymmetrical or Senneh knot. This quality of craftsmanship and the quality of wool will determine the longevity of a carpet. Tibetan wool is the finest wool available and left in it's natural form, retains the natural oils. These oils protect the wool over time, keeping it characteristically. Swiss Sandox dyes are used for their lasting quality and clarity of color. Vegetable dyes are available on request.

Each and every carpet is unique. You pick the design from the collection, then, if you wish for the more unique special, you pick the colors of the yarn. Due to the handmade nature of Zoe's carpets, color and size may vary slightly.